Superior solutions to your
business needs
benefits
EFFICIENT & ACCURATE
Our online systems fully automate your event, using all your unique business rules and preferences.
System determines Division placements, based on your own criteria.
Your client can see exactly what they are registered for.
This allows you to reduce staff and eliminate errors and duplication of effort.
SIMPLE & EASY
We've developed this program specifically to the way you are already doing business.
That means the system is very easy to learn--no training, manual, or special skills required of your staff or customers.
NO PROGRAMMING FEES. We update our system constantly, based on your feedback. AT NO CHARGE.
INCREASED CUSTOMER SATISFACTION
Your users benefit from getting immediate feedback and confirmation of their registration status.
They can view or update their registration online at any time, from any device.
AFFORDABLE! NO HIDDEN FEES!
No fee for setup, hosting, online payments, support, custom programming . . . NOTHING!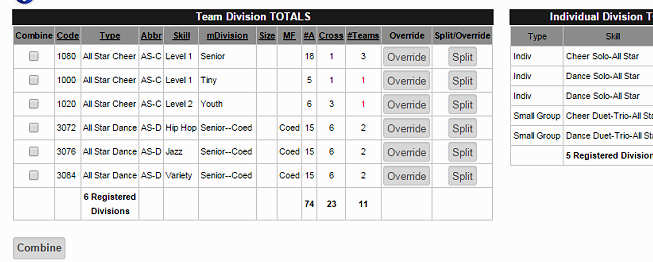 a few words about us
Why Champion Web Service?
We are the oldest, most comprehensive online registration for cheer/dance and Studio Dance in the World. We have more than 15 years of experience providing online solutions to Event Producers just like you.
What is Included?
EVERYTHING! Online registration, payments, and waivers. Accurate division placement. More than Admin reports and features. Unlimited Scoresheets--create your own for any type of competition. Online Scheduling, Scoring, and automatic Results. Provide Secure Credit Card Transactions to Your Clients

What is the total cost?
Less than $1 per participant at your Event. Deep discounts are available for higher volumes. There are NO OTHER FEES. No Setup fee, no credit card fee, no hosting fee, no upgrade fee, no support charge.
What Makes Champion Web Service Unique?
In addition to our many years of experience, and unparalled Customer Service, our business model is unique. We upgrade the system continually, at least once a week, based on your needs and feedback. Custom programming is FREE!